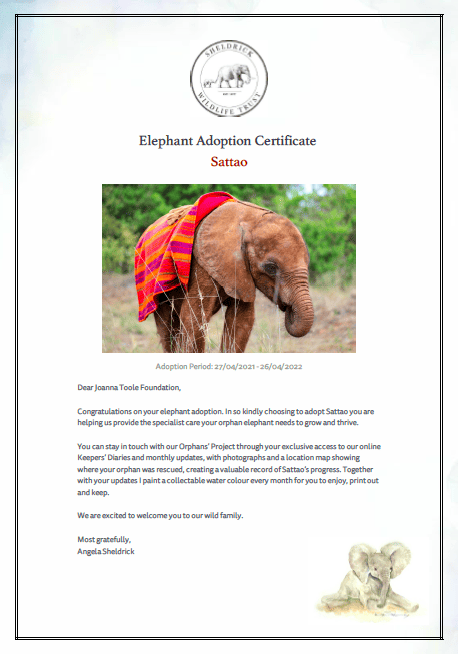 In November 2018, Jo and her colleague Amparo Perez, visited Nairobi for the blue economy conference and to participate in a GGGI workshop. They were excited to plan a visit the famous Sheldrick Elephant orphanage in Nairobi National Park, however visiting hours were from 11am to noon and they could only go on their first day and with their flight arriving at 1pm, they seemed out of luck.
Luckily, Jo found out that it was possible visiting the orphanage in the afternoon for foster parents and this is when they both decided to foster one baby elephant each! Jo decided to adopt Sattao and Amparo adopted Dololo. When they arrived to the orphanage they had a funny surprise: Sattao and Dololo were sleeping in the same hut and were great friends!
When you adopt an elephant from the Sheldrick center (https://www.sheldrickwildlifetrust.org/), you receive a newsletter every month with info about the progress of all the elephants in the centre.
The Joanna Toole Foundation has honoured Jo's adoption in 2018 and continued to adopt Sattao on her behalf. We hope that this helps the Sheldrick Wildlife Trust continue their amazing work helping him and many other orphaned elephants.