Applications Are Now Closed
Award winners have now been announced! Find out more here>>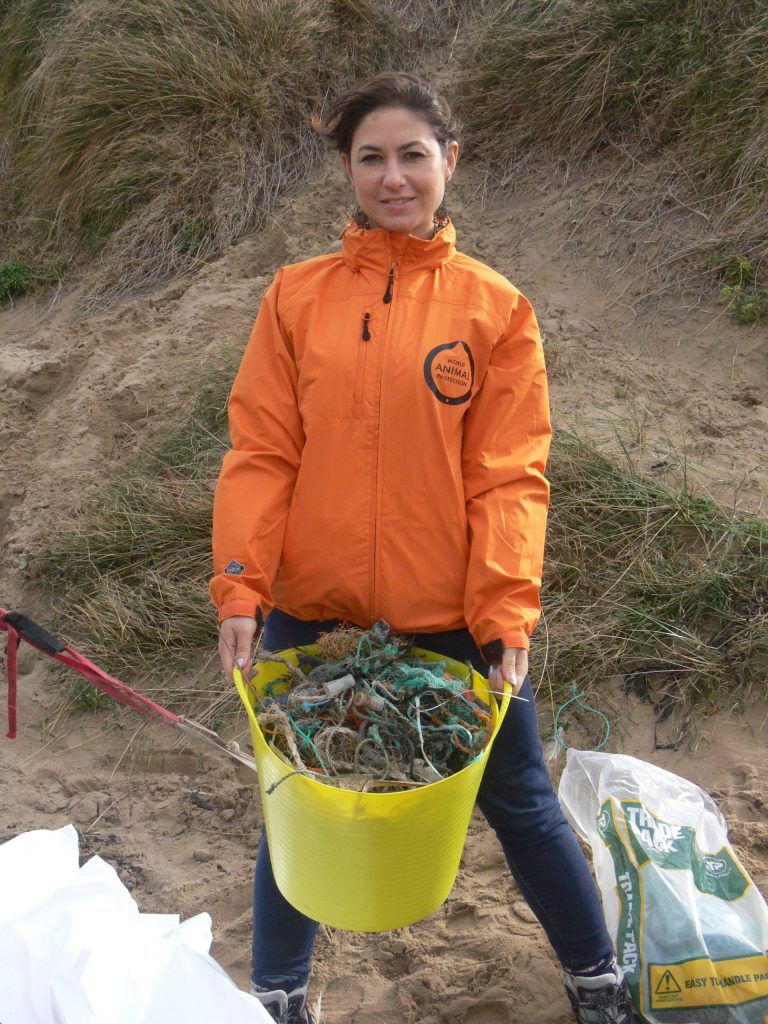 The Joanna Toole Annual Ghost Gear Solutions Award is an award given to the most deserving project that submitted compelling strategies to tackle abandoned, lost and discarded fishing gear (ALDFG), also known as ghost gear.
Ghost gear is one of the biggest threats to animals in our oceans. An estimated 640,000 tons of ghost gear is left in our oceans each year – more than one ton every minute. Ghost gear is, by far, the deadliest form of marine debris as it is four times more likely to impact on marine life through entanglement than all other forms of marine debris combined. Every year, more than 100,000 whales, dolphins, seals and turtles get caught in abandoned or lost fishing nets, lines and traps. Moreover, there is an increasing consensus that ghost gear is directly responsible for a 10 percent decline in fish stock levels globally. Made mostly of durable modern plastics, ghost gear can take up to 600 years to break down in the marine environment.
In 2014, World Animal Protection's Sea Change team, co-led by Joanna Toole, established the Global Ghost Gear Initiative (GGGI), a multi-stakeholder, public-private partnership committed to driving solutions to the problem of lost and abandoned fishing gear worldwide. The GGGI aims to improve the health and productivity of marine ecosystems, protect marine life, and safeguard human health and livelihoods. The GGGI currently brings together over 100 partners across the fishing industry, the private sector, academia, governments, intergovernmental and non-governmental organisations. The GGGI's membership is organised into three integrated working groups to directly tackle global ghost gear through: i. building evidence; ii. defining best practice and informing policy; iii. catalysing and replicating solutions.
The Award
The Joanna Toole Annual Ghost Gear Solutions Award is made possible by support from World Animal Protection, the Global Ghost Gear Initiative and Ocean Conservancy. The Total Award to be give is $40,000.
How to Apply (please note that applications are now closed)
We welcome applications for projects aimed at addressing the threats of ghost gear in our oceans. The winning project will be able to demonstrate that it can either cause a measurable reduction in the suffering of marine animals due to ghost gear within the funded period (a maximum of 12 months) or develop an approach, mechanism or technology that can reasonably be expected to do this when applied in the field.
Projects must be sustainable and underpinned by a commitment from the proposing organisation to continue to address ghost gear beyond the project duration. Projects that are scalable and replicable will be favoured.
To Apply (CLOSED)
Please download and fill out the application form and return to info@ghostgear.org and info@joannatoolefoundation.org by September 11th 2020.
All applicants will be considered by a specialist review panel and the winning recipient of the award will be informed no later than December 2020 with commencement of the project in 2021.
When answering the questions, please consider that your application must be able to demonstrate the following criteria:
Prevention, mitigation or a cure of the negative impacts of ghost gear on marine animals and on the marine environment either by implementation of provisions described in the GGGI guidance document The Best Practise Framework (BPF) for the Management of Fishing Gear or by proposing a new and innovative approach.
Measurable benefits to the species, communities and/or geographical areas involved in the project.
The long-term sustainability of the project through replication, scaling and/or partnerships, policy implementation or continued development.
---
"For Joanna, her work was not just a nine-to-five activity – she was a devoted animal lover, who dedicated her professional life to this work. Her complete dedication to animal welfare has been an inspiration to many and the Joanna Toole Annual Ghost Gear Solutions Award instigated by World Animal Protection and the GGGI is a means of awarding initiatives that will rid the oceans of this menace to wildlife. I am honoured to have been involved in this project with the intention of carrying forward her mission."
Adrian Toole, Joanna's father, GGGI Solutions Award judge and trustee of the Joanna Toole Foundation
---